This article summarizes how to create Advanced Reports in LoadOps
Overview
The export data wizard can be used to Download raw data or report data for further analysis. You can also access the same data using an API link which can be integrated with analytical tools like Power BI and Tableau.
To download the data using the API link, ensure your API access is enabled by the administrator in the company preference section.
Accessing data using API links enables you to access a more detailed level of data compared to the excel download option.
Create Advanced Reports
Please go to Reports > Basic Reporting > Create Advance Report to create an Advanced Report
Step 1:- Select Data Source
Step 2:- Apply Filters.
Select Data Source
There are two types of Data Source.
1) Load Report.
2) Load Trend Report.
Load Report
Workflow:- Please follow the attached link on how to create Advance Report using Data Source as Load Report (Advance Report- Load Report)
If you select the Data Source as Load Report, under the Filters section, you need to choose the type of Loads and the Report Criteria.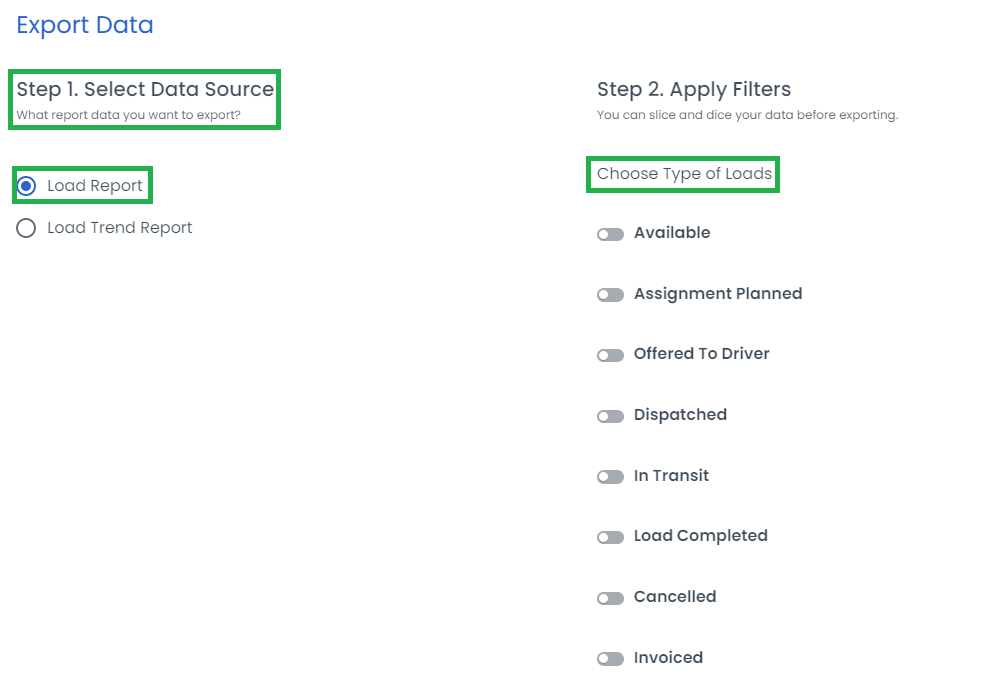 Image 1
Report Criteria includes
Period
Schedule Type (Appointment or Actual)
Date Type (Trip Start Date or Trip End Date)
Driver
Customer
Tractor
Trailer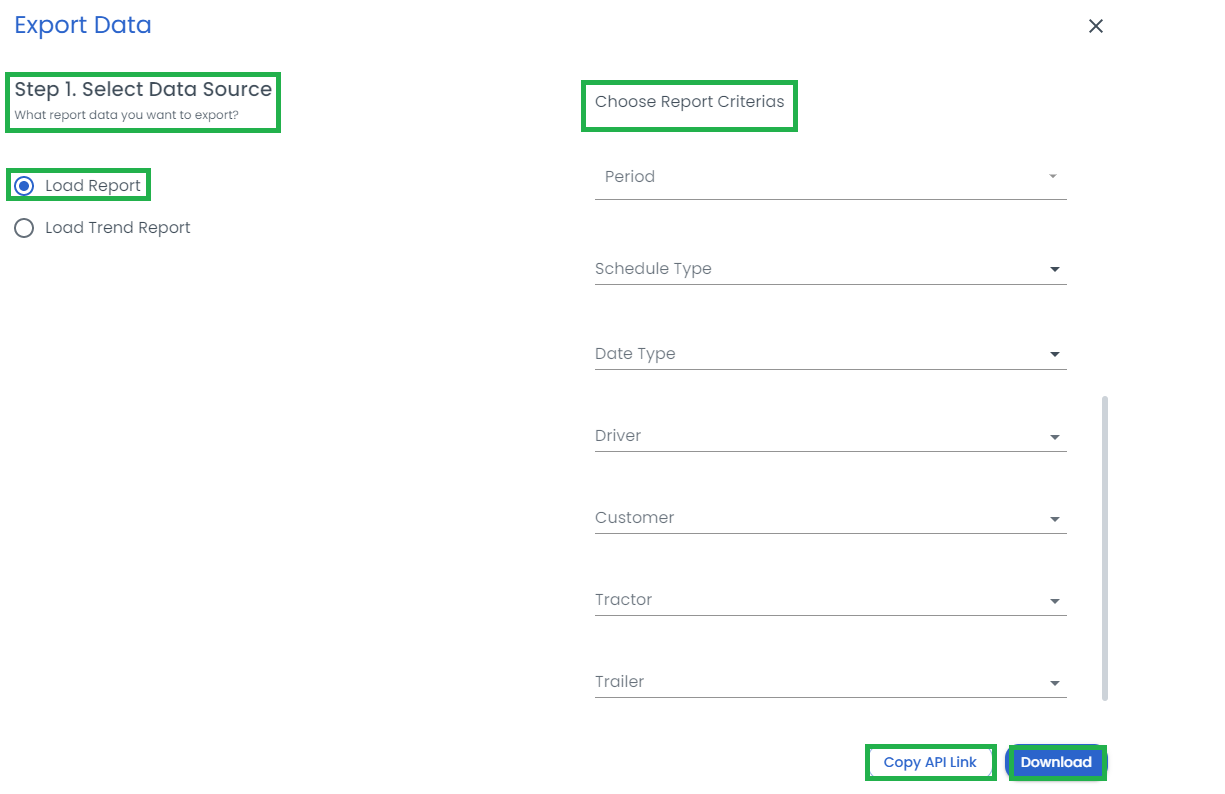 Image 2
Click "Copy API Link" to copy the API link to Clipboard! and click "Download" to download the Advanced Report
Load Trend Report
Workflow: Please follow the attached link on how to create Advance Report using Data Source as Load Trend Report (Advance Report- Load Trend Report)
If you select the Data Source as Load Trend Report as Data Source, under the Filters section, you need to select
(i) Type (Monthly or Weekly)
(ii) Entity (Driver, Customer, Tractor, Trailer)
(iii) Period (Last 1 Year, Last 2 Years, Whole Period)
(iv) Schedule Type (Appointment or Actual)
(v) Date Type (Trip Start Date or Trip End Date)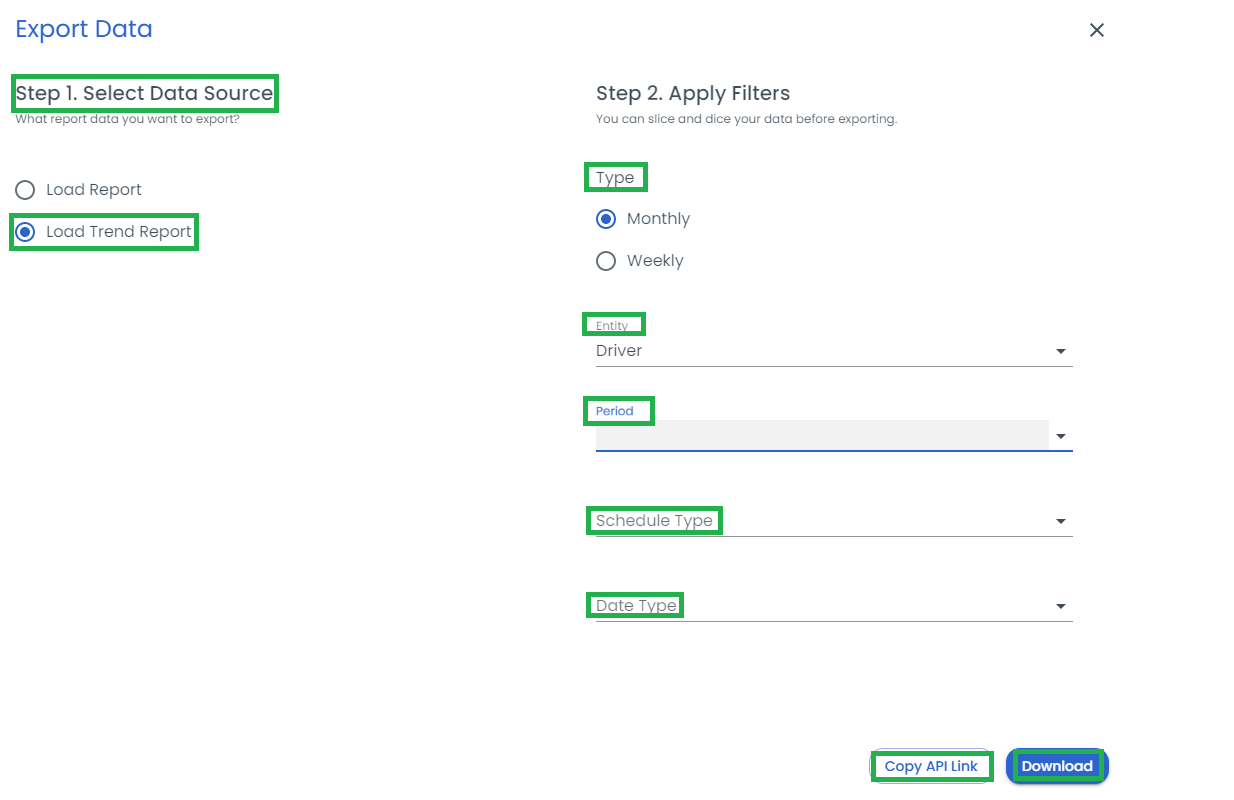 Image 3
Click "Copy API Link" to copy the API link to Clipboard! and click "Download" to download the Advanced Report