TrackEnsure ELD
Overview of how to integrate your TrackEnsure ELD with LoadOps
Overview
TrackEnsure provides an easy-to-use ELD/HOS solution, compliant with FMCSA helping Owner Operators and Fleet Owners stay compliant and on track.
Integration Steps
1) Before you integrate, please connect with a TrackEnsure representative to request an Access Token. You need an "API Key" to integrate with LoadOps
2) Go to Settings > Integrations > ELDs > TrackEnsure in the Web App.
3) Click on Activate
4) Add your Display Name and Access Token as shown below.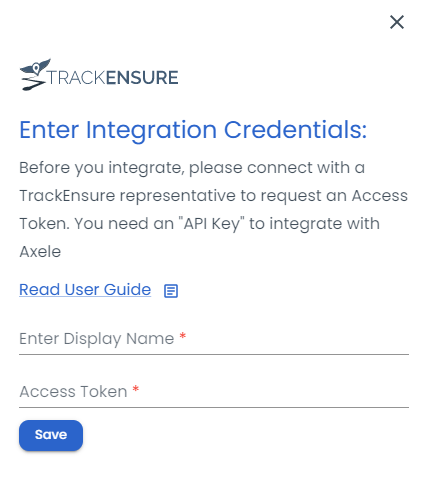 5) Click on Save
Next Steps
You should see that your ELD has been successfully added. Now you can create or link your drivers. Learn how to add drivers here: Create Driver - LoadOps Help Center.